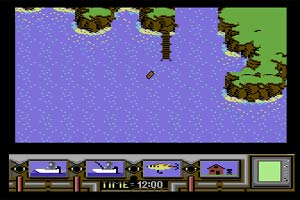 Another former Cascade member started coding on a little game, which should have been a conversion of the Amiga game "Reel Fishing" a long time back. However, when a unofficial crack of 'Turrican 3' happened, this project was put on ice.
But once the dust settled, the game was brought back to life and in production for Protovision (Who produce new C64 software in 2000 and onwards). Progress seemingly was looking very good and the game shaping up well.
However, after some badness on the C64 scene, the developer became disollutioned and decided sadly to quit developing on the C64. You can read more about this in the note which is supplied with this preview… released in sad circumstances.
Everything you see here is pretty much what was left over when cancelled. There are probably bits and pieces of code, graphics and music unused which could be seen in the future, but we are assuming this is almost 100% of what was left.
The developer has decided to release all his work on the game out into the open so that the game gets some kind of recognition and reception rather than gather dust. It's possible that maybe someone will offer to pick up the pieces of this game, but otherwise the developer states that the game will never be finished.
What with the decision to release, GTW has added the title to its archives and hopes to pay hommage to a title which looked as if it could have been rather nice. The preview shows very good promise of a fantastic conversion, with a playable area similiar to that of the ship sailing in Pirates. Some nice graphics are present throughout (although its stated that some are borrowed temporarily for the preview).
Additionally, Glenn Rune Gallefoss has kindly submitted to GTW all his SFX work which was mostly unused. This can be downloaded from the link above. And Marco has also submitted some previously unseen graphics which are in Amica format and are now part of the overall download and in the screenshots section.
Hopefully we may get a creator speaks page for this game from Markus to get his own story about the game and its development. For now, download and think of what could have been…
The beginnings of a fantastic conversion, sadly fading away…
Contributions: Zeldin, Glenn Rune Gallefoss, Marco, Peter Sandén
Supporting content
Available downloads for this entry