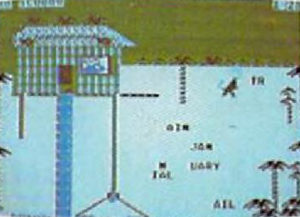 An educational game which might be out there, but has yet to be preserved. Or is it a title that never quite made it?
Monkeybuilder has a 256 word set, designed to increase spelling and vocabulary skills,"‹ into 17 different work skill areas. The idea was to encourage children to combine word pieces correctly to form building blocks, and make a tree house for Marc (the monkey?). The advert shown even gives a screenshot. The other two games, Monkeymath and Monkeynews were "‹released and can be found within Gamebase.
It is plausible that this is just an obscure title, and copies do exist. But for now we add an entry until hopefully some day we find the game.
Contributions: Peter Weighill