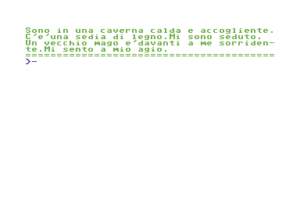 Our next entry is a very early text adventure that was created by Ivan Venturi, who went on to produce a number of titles for Simulmondo. With thanks to Damiano Gerli for highlighting.
Ivan was just 14 years old when he wrote this game, and it was thought lost until surfaced via ready64.org. The game was primarily a personal effort, but attempts were apparently made to sell the game to publishers. It never happened, and so the game remained gathering dust.
So here it is now finally, and an early glimpse at Ivan's earliest work thanks to Ready64. You will need to know Italian though to play it, so if not – then ensure you have a translator ready :)
Enjoy!
Contributions: Ready64.org, Damiano Gerli