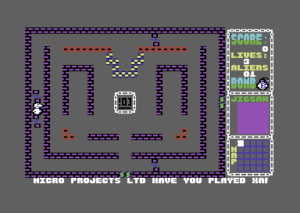 Recently, Mark Hardisty has launched a website full of memorabilia in preparation for the launch of his new A Gremlin In The Works book.
Part of this included source code files which were donated by Anthony J Clarke, which included some C64 source files for two Gremlin Graphics games – Dork's Dilemma and Tycoon Tex. Hokuto Force have pieced everything together and have made these available for people to check out in an emulation form.
Dork's Dilemma is pretty much the C16 game code and graphics, with no hardware sprites used. It is essentially a complete conversion, but with no sound.
The game was constructed on the C64, and then wired down to the C16 to run and compile. This is why a C64 version of the code was available, which could be compiled to get running – but the intention was always for a C16 only title.
Overall, it is a great piece of history preserved thanks to Anthony, Mark Hardisty and Hokuto Force. Check it out!
Contributions: Hokuto Force, Mark Hardisty, Anthony Clarke