1991 U.S. Gold
Platforms: Commodore 64, ZX Spectrum and Amstrad CPC
Mega Twins (known as Chiki Chiki Boys in Japan) was a sickly cute platformer produced by Capcom in the early 90's, a slight sideways turn from the likes of Strider, Final Fight and Ghouls n Ghosts, no doubt to tap into the younger players and their 10 pence pieces. Many of us probably would have vomited at the sight of it and went back to kicking several barrels of crap out of bad guys in Final Fight.
The game consisted of you controlling two twins who carry swords and had to cross various platform levels to kill the dragon which killed their Father and find the Dragon Blue Eyes stone and save their world. The game was predominantly a sideways scrolling platformer, but with some vertical scrolling portions and a later castle level, where you would climb vertically to mix things up a bit. Large guardians would feature throughout as well to provide a fair challenge to even the most hardened of gamers.
U.S. Gold at the time were busy getting conversion rights for the likes of Final Fight and Dynasty Wars (both Capcom titles), and they didn't stop there – obtaining the licence to produce Mega Twins across the 16-bit and 8-bit home formats in 1991.
Once the announcement was made, we were treated to regular adverts each month across 1991/1992. Already U.S. Gold had done the usual European cock up of completely ditching the iconic Japanese artwork and going for a scarier interpretation of the twins as knife (ok, sword – I know!) wielding thugs (see above).
"Tiertex had an amazing ability to do shit games, the only things they did that were good was due to a few individuals who wanted to do something good."
When it was learned that Tiertex were to be behind the conversions however (with Twilight taking on 16-bit programming duties), many were probably fearful that it was going to terrible. Tiertex's track record back then on conversions was not too great, many conversions were rushed, there was sometimes a lack of communication between artists and coders, which didn't help.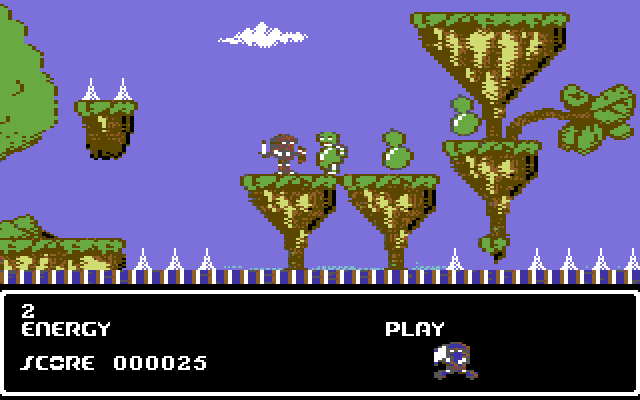 With the C64 version at least, it was very much in safe hands – the coder being none other than Mike Ager, who was the brains behind the then recently released and successful Alien Storm conversion and had a strong track record from his Software Creations days. You can see and check out the C64 entry here.
He was teamed up with the same artist as on Alien Storm, Wayne Billingham, and they both looked very much on target to repeat the success with Mega Twins. "Tiertex had an amazing ability to do shit games, the only things they did that were good was due to a few individuals who wanted to do something good." Wayne reflected.
The Spectrum edition was in the hands of a relatively unknown developer called Robert Glavas, who had previously done mostly utilities and little else. A risk you might say, but time would tell. Sadly we were unable to track down Robert at the time of writing to find out more.
The CPC edition is still a bit of a mystery, with developers such as Doug Anderson, Paul Gill, Chris Brunning, Dean Belfield, Dave Semmens, Paul Cole and Andrew Holdroyd all ruled out for being involved in the coding side of things.
Sprites for all 3 platforms were developed by a combination of Wayne Billingham, David Bland and Simon Street. Music was reportedly being created by a chap only known as "Mad Mike".
Mega Twin's development had started with much enthusiasm and drive across all the platforms around early 1991. After months of anticipation, the conversions started to peek into daylight, starting off with magazine previews in late 1991. The game was expected to be in the shops the very same month, which was likely to be based on over eagerness of the magazines of the time.
"I liked doing Capcom conversions, I loved their style, and many of the little creatures were ideal for the c64, but I wasn't happy with the main character."
All conversions were beginning to look pretty solid overall, 16-bit editions looking everything like the original arcade (barring some details from the backgrounds). The Spectrum version looked clean and well drawn given its colour limitations, the Amstrad very bright and colourful and the C64 looking a little paler with its muted palette, but solid enough and with it's 2 player mode visibly intact.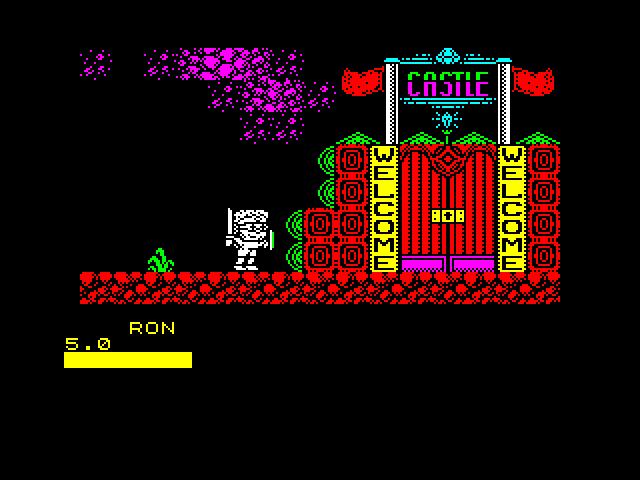 For the C64 conversion, a preview was shown in Commodore Format and looked very promising indeed. It looked as if at least 2-3 levels were complete and ready, but Wayne confirms that the game was essentially complete. "I remember we did the vertical scrolling bit that ends up in a big circular castle bit in the sky. I liked doing Capcom conversions, I loved their style, and many of the little creatures were ideal for the c64, but I wasn't happy with the main character."
Possibly the option wasn't there to have a hi-res overlay to improve proceedings with the main characters to keep the enemy sprite counts up. Interestingly it seems that sprite work was initially done by a chap called Ste Watson, before Wayne took over proceedings – possibly as Ste was a little inexperienced at the time, and according to Simon Street, was struggling a little.
"I was primarily working on the Amstrad version of Mega Twins (Amongst many other things), doing sprites and interluding screens.", Simon explained.  "I was in the front art room at Pallatine road, in a room with Ste Harding, Dave Price and Ste Watson (he moved next door at some point, and was replaced in the room by Phil Chin). I know Ste Watson was tasked with creating the c64 sprites, and did a bad job (he couldn't get his head around bit-pairing) so I ended up having to convert back my Amstrad work to fit within the 64 limitations". Simon left Tiertex shortly after, and only recalled only seeing one level complete at the time.
The Spectrum version was making good progress too – with Crash and Your Sinclair providing previews, showing at least the first world in action. Good noises were being made by the staff who looked at the preview, and Robert Glavas in an interview with Your Sinclair was confident that things were progressing very well, regardless of admitting that he hadn't had anything published before.
Eventually, the 16-bit versions surfaced around November 1991 and were fairly well received, apart from lacking from in-game music. One of the complaints was the slow nature compared to the frantic arcade, and also not making use of the Amiga's vastly superior graphics palette over the Atari ST.
"Every month we ring U.S. Gold and they tell us that the game is in final testing. So we put it on the innermost ring of the scanner."
The 8-bit conversions were still nowhere to be seen, even though Amstrad Computer User naughtily reviewed the CPC edition in January 1992, which was found of course to have been a preview. One C64 reader of Commodore Format got so fed up by June 1992, that they wrote to the magazine to find out what was going on. The magazine's reply was quite interesting:
"Every month we ring U.S. Gold and they tell us that the game is in final testing. So we put it on the innermost ring of the scanner. Then it doesn't show for review and we ring the Goldies and they say that it is still in final testing. The result of this is that the game has been virtually ready for review for three months, a position the scanner has mirrored.

This is in no way a criticism of the Goldies though. They want to make sure that Mega Twins is as good as possible and won't release the title for review or sale until it meets their high quality standards. It's annoying to have to wait for so long, but when the wait is for the sake of improved quality, it can only be for the best in the long run. So we'll review it when USG are happy with it"
This seemed to be the case with also the Spectrum and Amstrad editions of the game too, even though all versions were believed to have been completed (Your Sinclair claiming as much in a news snippet). Clearly something wasn't right and U.S. Gold were stalling the 8-bit editions – but why? Did U.S. Gold suddenly feel the 8-bits were done for? Mega Twins not long afterwards disappeared for good, and from people's minds.
By late 1992, the Spectrum market had pretty much dried up, with only the C64 and Amstrad still just about going. Interestingly, U.S. Gold hadn't fully pulled out of the 8-bit market completely by this point. As late as February 1993, they released a conversion of Street Fighter 2 at full price for the C64 and Spectrum  – the Amstrad edition subject to much speculation and another story in itself!
It is possible that the reason for Street Fighter 2 to get a release and not Mega Twins, was down to feeling that only blockbuster titles would make a good profit for them on the 8-bits at this time. Street Fighter 2 was so popular that even with an average conversion, it would sell plenty based on the strength of the name – and they were proved right to a degree!
There was a brief mention in the press that Mega Twins was to be released directly onto the Kixx label for the 8-bits, but this was decided against – only for U.S. Gold to decide to go for it again in November 1992, with that falling through too!
Interestingly, a compilation called Raving Mad was later released, and teasingly including C64 based instructions for all the games including Mega Twins. It seemed that U.S. Gold WERE trying to release the game, but something kept stopping them.
The C64 edition has been a mystery to GTW64 for many years, with the developer Mike Ager not responding to any contact attempts or questions regarding any of his C64 work. Tracking the other 8-bit developers has been tricky too. Wayne however confirmed that he had completed all of his graphics before he left Tiertex, and he believes that Mike had completed the coding side on the C64 edition.
Contact attempts with ex-Tiertex members, staff at the magazines of the time and even staff from U.S. Gold directly have proved fruitless in trying to work out what happened and to see if the game in a final state has survived across all the platforms. Very similar to what has happened with the C64 conversion of Murder.
Wayne however dug out all of his development disks in 2008 for Games That Weren't to examine. Sadly just graphical assets were recovered in the end. However, we did at least manage to get a sprite demo constructed and a reconstruction of the preview screenshot – using the character assets that we found. Interestingly a disk dated February 1991 had quite advanced graphics – the game was certainly in development for some time it seems, even before magazines had initially announced it.
"Those demos are a lot further advanced than the one that I had in terms of levels built, gameplay is the same as are scroll routines."
The Spectrum and Amstrad users fared better, when amazingly a set of disks turned up at a boot fair containing demos of both conversions and were quickly snaffled up by eagle eyed David Powell at a boot fair in Sheffield back around 2012. Months of hard preservation work by the Software Preservation Society brought back to life some late demos of the Spectrum and Amstrad editions – clearly not complete, but very close!  You can check these out over at the TZX Vault.
"Those demos are a lot further advanced than the one that I had in terms of levels built, gameplay is the same as are scroll routines.", Simon Street comments after seeing the previews online. There was a fear however from David that the Sheffield seller had already put a load of disks on Ebay, which may well have had more complete versions of the games – maybe even the C64 edition. Sadly it was not known who the seller was exactly.
Sadly no C64 version was recovered in the lot. The Spectrum edition had no sound or proper titles in particular, but a good chunk of levels and some intro screens and basic titles. The sprites are not quite complete on the Spectrum edition, with the sword swishing animation in particular being missing and only seemingly to be complete up until the Castle entrance (so one level in all), it has a lot of promise.
The CPC edition in comparison comes with music, full intro screens and up to 3 rounds in total, looking very much close to completion, maybe around 80% complete in total – suggesting there could be actually a complete edition to find. Maybe Amstrad Computer User did review a complete copy after all? The CPC version actually looks as if it could have been a very solid release for the machine, which makes the fact that the game never got a release even sadder.
The search is still very much on now to see if the final completed editions can be recovered for all platforms.
With thanks to David Powell (including the photos of the disks), Steve Brown, Wayne Billingham, Al Xyphoe, Simon Street and Rob Hylands for their input over the years.
Links
Gallery