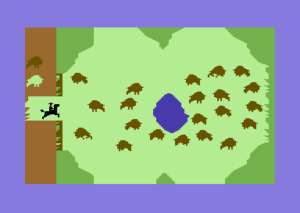 It's not always unreleased games covered in the GTW64 archives, as occasionally we see the odd unearthed early preview or development version of an actual released game with some interesting differences or features.
Today we have an earlier build of Buffalo Roundup, which was unearthed by Csaba Virag from a disk that also contained an earlier build of Bird Mother. Both games were created in Hungary.
Csaba highlights that with Buffalo Roundup, the key differences are that the game doesn't have a main title screen, does not display the level number you are on and also the high-score meter is only activated on the second level. We also noticed that the main character is in monochrome too compared to the final game, and there are no fences.
Then in July of 2021, Csaba found another beta – this time a lot more finished, but still not the same as the final game. Here a loading screen is added, which becomes the title screen in the final released game.
Thankfully as we know, the game was eventually released to the world, but these are interesting early curiosities worth checking out.
Contributions: Csaba Virag
Supporting content
Available downloads
Update history
16/07/21 – Added a second beta from Csaba.