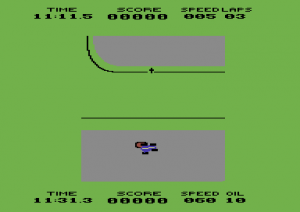 Horror Drive is a really neat and promising 2 player split screen racer, with a top down viewpoint. Sort of like Rally Speedway, but with far smoother scrolling. The backgrounds are simple at this stage, but maybe more scenary was planned for the final game?
We don't unfortunately know where this game has come from – it was cracked by a group called Horizon, so we assume it may have been one of them that had produced the game. The title could also be made up as well, so it could be a tough one to try and get to the bottom of.
Check it out for now whilst we start doing some digging, and see for yourself what a nice promising racer this was.