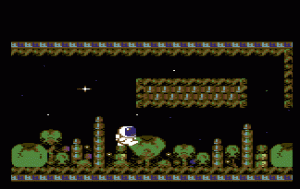 This early preview puts you in the control of a nicely animated spaceman, running around and jumping over various vegetated objects over a short horizontal push scroll map.
Glitches are everywhere in this early preview, and some errie music has been added to make this game feel even more strange than it already is.
There are very few enemies to contend with, so reaching the end is quite simple. The actual end of the preview shows some kind of credits are the top which are unreadable, due to some kind of corruption possibly, while the whole map scrolls again.
It's hard to comment how promising this game is, especially without any real background to the game, and credits are lacking, so asking about the game to its creators will be another tough job for the GTW team.
We believe that the game is called Killerplants, though it has been released under the name of Fussball at a later date. So do you know anything more about it?
In space, no one can hear this one scream…