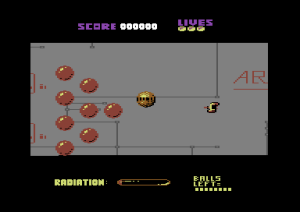 Hidden in the Thalamus archives is a game called Nuker. A bizzare name, but a rather interesting game! Standing for "NUclear SnooKER", the obective is for the player to guide his spherical craft around randomly shaped areas, shooting spherical toxic dumps into pockets. The player is constantly frustrated by enemy craft but you can gain some excellent power up's.
The game is 8 directional scrolling with parallax effects, viewed from above in assorted spacecrafts. Due to cash flow problems Paranoid Software (the games developer team) closed down at this point and the game never saw the light of day. The game was based on an idea by Ned Langman from 1984, which you can see below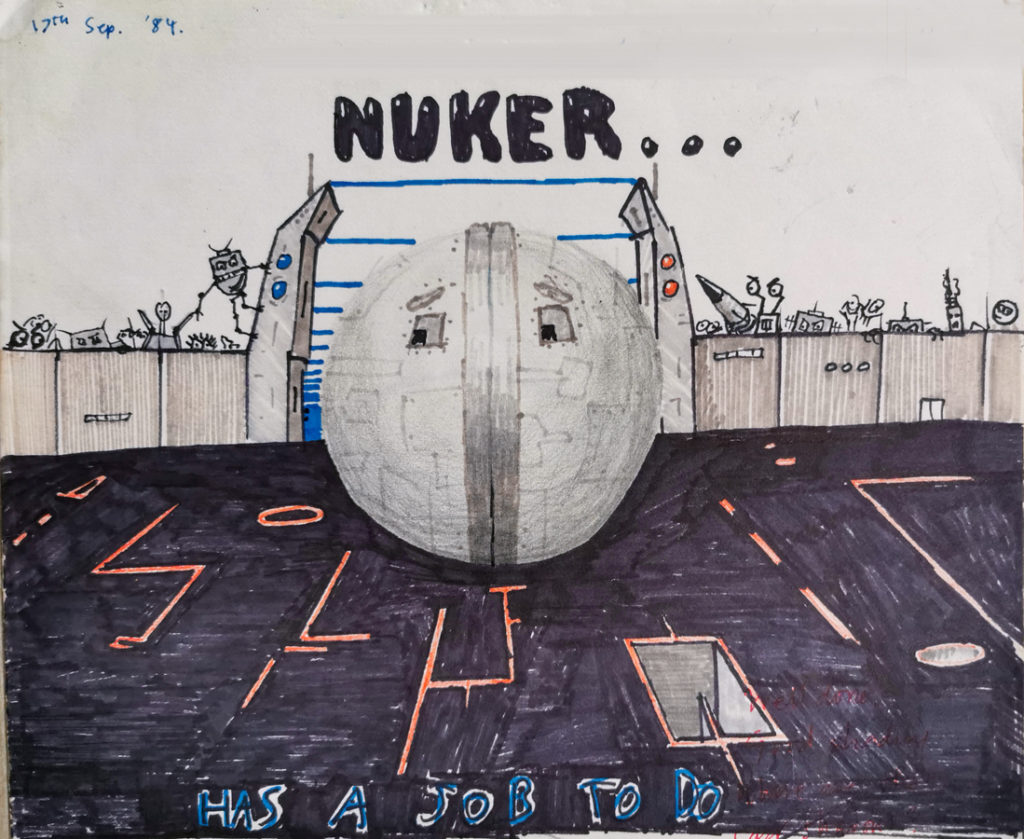 Stuart Cook originally got in touch with GTW, and believed he may have something of the game to uncover. However things went quiet and nothing came about. Luckily though in 2011, C64.com preserved a bunch of Darren Melbourne's disks and GTW64 filtered through to see what had been found. On there was a few versions of Nuker, pretty much complete – one complete with sound effects!
Sadly we could only call it a preview, as there didn't seem to be an ending – and there was a glitch on the ball movement – which Darren was adamant was fixed in the final version. Well, Darren sent his final batch of disks to us in December 2015 – and we found that very version!
And here it is for you to finally enjoy in Full Game status! Thanks to Martin Pugh for defreezing!….It is a neat little game, with a classic 80's feel to it. It gets a little repetitive and there are far too many levels, but it is fantastic to see a Thalamus title preserved at long last!
Check it out! … Case closed!…
Contributions: Darren Melbourne, Stu Cook, C64.com, Slator, The Ignorance, Martin Pugh
Supporting content
Available downloads
Gallery
Creator speaks
Stuart Cook speaks about work on Nuker…
"Nuker was a game that should have been published, but never was. 'Nuclear Snooker' was an 8 directional scrolling game (parallaxing too!) that was viewed from above assorted spacecraft, that were arranged as various tables of different shapes and sizes.
The craft had assorted radiation pods on top of them that had to be jettisoned into space by pushing them through 'holes' in the craft. If I remember correctly, it was a battle against time to use a 'cue' to pot them off the ship before the radiation levels got too high.
The cue gained 'power ups' as the levels progressed, from 1 direction ability (left right) to adding up/down and diagonal potting ability, followed by more power etc.
Also, assorted alien enemies tried to stop you as you were doing all of this. I may have a disk with the game on it somewhere, but I'm not sure, it has been 20 years. I'll see what I can dig up."
Stuart Cook.
Darren Melbourne speaks about work on Nuker…
"The game was being written for Thalamus but despite claims to the contrary it was a long way from being finished.
The game was by modern standards at Pre-Alpha stage or Alpha at best. The game was being tested and reviewed by Thalamus when it sadly went into administration.
It's my belief that we probably had another three months development time to ensure that the game was up to the standards that had been previously set by Thalamus's other titles."
Darren Melbourne.
Update history
20/12/15 – Full game recovered!