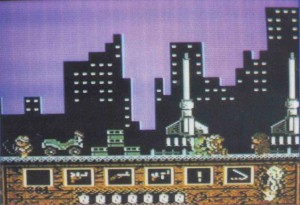 In the early 90's, quite a few games were mentioned for UK release by Italian company "Idea", and quite a few did actually make it over here… Apart from Sturmtruppen.
Sturmtruppen was described as a sort of Midnight Resistance style game, with plenty of jumping and shooting action. The game was mentioned in Commodore Format very briefly, but never seen again. It is thanks to Mr Fox that we are able to see a first glimpse of what the game looked like.
Sturmtruppen was planned for both the Amiga (later released) and the C64, and it was based on a comic strip lampooning the military life during a war which might or might not be the WWII – it was mostly an excuse to make fun of the idiocy of war and military-types in general. The strip ran for about 20 years with declining fortunes, and was periodically revived by the agency which owns the right to the original strips and its sequels, done by in-house artists.
The author of the strip, Franco "Bonvi" Bonvicini was one of the most famous Italian comicbook authors during the Seventies, close friend of Hugo Pratt of Corto Maltese fame. He was at the game preview where Fabio Rossi was present, in his customary stuporous state, and the whole affair was quite disconcerting to everyone involved – but Fabio still prizes a sketch of himself as a Sturmtruppen that was drawn perfectly.
The game itself was a side scroller mixing the usual elements of that type of games with "Spy vs. Spy" wacky traps and gadgets. According to Fabio, the first two levels were completed, but the game was never completed. The reasons being a split between Antonio Farina (owner of Idea and now CEO of Milestone) and the management of Leader Distribuzione (the publishing and distributing company of which Idea was actually a branch).
Fabio recalls – "The game programmer probably completed the game on his own and used it to test a new technique of colour interpolation (basically, he flashed very rapidly single pixels with different colours in order to give the effect of an intermediate hue, extending the perceived palette). Can't remember his name at all, but he was the very nice guy behind a couple of other C64 games, including a heavily Antiriad-inspired horizontal scroller which got quite good reviews everywhere."
The screenshots we had were not really clear, but they seemed to resemble partial level maps for some of the game's levels. There was no signs of a main character or anything like that. Maybe there were other screenshots in other magazines in various places?… Well, there was! Thanks to Luca/Fire, we can confirm that there were some much later screenshots and now we have added these!… these include some action going on and much more of the game panels.
In Zzap Italia, there was a feature on the development of the game which can be found in the gallery.
Originally it was believed that Paolo Galimberti was the coder of the game, but he was just the graphic artist and in fact – Roberto La Ragione was the developer of the game. The game was one of his first efforts on the C64 and was picked up after the choice between this game and Lupo Alberto (Roberto was a fan of Bonvi's work).
Work was initially very tough, but after 6-8 months – the game was very much starting to take shape. The graphics went through several cycles until they started to feel right – and right they did look. Apparently there were also some very cool colour cycling effects being used to really try and make the game stand out. Sonically the game was solid too – with a good set of tunes produced and completed.
Roberto was unsure to why the game was never actually released – the company just cancelled the game for no given reason. Roberto suggested that the game was practically finished – so it is very odd. It is believed there was a bust up between Farina and Leader, which resulted in the cancellation – but this has not yet been confirmed.
This information was found thanks to the guys at Ready64, who interviewed Roberto. When asked if he still had anything of the game, unfortunately it was bad news. He got rid of all his C64 gear after it broke many years ago. The only chance now may be with the graphic artist – but it is unfortunately looking bleak as Paolo is proving tough to track down.
Hopefully some day we may see something of this game, other than forever looking at the scans and thinking what might have been.
Contributions: Ricchesuccio, Mr Fox, Andrew Fisher, Fabio Rossi, Paolo Formighieri, Roberto, Luca/Fire, Fabrizio Bartoloni, Havar, Ready 64, Ross Sillifant
Supporting content
Related articles
Fabrizio Bartoloni has very kindly attempted to translate the Ready 64 interview which was carried out by Raffox. Frank Gasking has proofed through the translation, though apologies for any inaccuracies that may still be left!
In the arduous attempt to collect more details about a videogame that many of us have wanted to see published, we stumbled upon the author of Sturmtruppen, Milan-born programmer Roberto La Ragione. We therefore asked him to share his experience with the Commodore 64 and the genesis of a project so interesting and yet so unlucky.
What we would like to do is to feature details from other developers involved in this project, so that to have a full view over a game that wasn't.
R64: Hi Roberto! First of all let me thank you for your kindness in taking time to answer our questions. We would like to start by asking how you got involved with the C64 and computers in general.
RLR: Hi to all Ready64 readers, my name is Roberto La Ragione and when I was young, I started creating programs and demos on the C64, my very first home computer, after buying all the then available game consoles (Atari2600, Intellivision & Coleco).
I started being interested in C64 as a hacker, along with a group of guys who "unlocked" games (my nickname was RobyOneKenoby, of 2703 Group). I began to study other people's code to understand how protections worked. Beside that I was having fun in making demos, trying to exploit the machine's potential. I remember that back in the days, when games were released at news stands and translated in Italian, almost all of them were modified by myself and some friends of mine… from there it took very little to start developing something on my own.
R64: How did you get in touch with Antonio Farina and his software house Idea? Do you have any detail about the organisation of that company that you see fit to be sharable with our readers?
RLR: Antonio Farina, with his software house IDEA, was one of the earliest forerunners of the videogame industry in Italy. Back then there was next to nothing in Italy that could remotely look like what could have become a famous and succesful company like Milestone, currently the big corporation that developed famous titles for Electronic Arts.
In those days the very few Italian programmers could be counted on the tip of your fingers. I had the chance to meet Antonio Farina while visiting a fair, through distribution company Leader. Our collaboration was born out of that meeting.
R64: How was the idea to create Sturmtruppen born?
RLR: Sturmtruppen was born out of an idea by Antonio Farina, he thought of developing a line of titles inspired by the comics world that could be easily ported both to C64 and Amiga. Antonio later made a deal with Bonvi for Lupo Alberto & Sturmtruppen. I chose to code Sturmtruppen, as I was a big fan of that comic.
R64: Your role was that of game coder, do you remember how you organised your work? How long did it take to code? Any episode or story worth mentioning about the development?
RLR: I was the official coder of C64 version while a friend of mine, Lodovico Benvenuto, was the coder behind the Amiga version. First I started to develop the game without graphics, as the graphic artist was way too busy engaging himself, trying to reproduce in the best way he could those comics protagonists and the locations to be implemented in the game.
In the beginning it was tough, but after 6-8 months the game started to take shape. I recall the graphics were modified so many times because we wanted to create a good game at any cost, and to be honest I especially wanted to make it look good being such a fan of Bonvi and his comics.
R64: About the visual and sound features of the game, what can you tell us? Did you implement any particular routine?
RLR: We were evaluating the opportunity to match colors and shapes that could make the game graphically more appealing and at the same time full of original nuances (note: a bit like in Creatures, if you know what I mean). About sound features, the game offered a praiseworthy soundtrack, composed using a 16 channels soundtracker, they were generated by mixing the 3 (channels) the SID is endowed with.
R64: Can you tell us why Sturmtruppen was never published?
RLR: Sturmtruppen in the end was practically finished but for reasons unknown to me its publisher decided not to release it. I've never found out the reason but I know that the Amiga version made it to market.
R64: Did you have any further project work on the C64 besides Sturmtruppen?
RLR: At the end of the day I felt quite bad that the game I cared so much about wasn't published, therefore I carried on making C64 demos. In the meantime, I bought an Amiga and started making a game, later submitting it to Antonio Farina – who decided not to publish it.
R64: Were you in touch with many others from the Italian C64 scene?
RLR: Let's say not directly but somehow, having being active in the same time span, I'd got to know Francesco CarlÁ 's Simulmondo, and later some guys that at one point went to work at Milestone. As of today I keep seeing my friends from the cracking world and some developers who moved onto other platforms.
R64: What are you doing today?
RLR: Myself and my co-workers have been busy in the mobile & smartphone sector for 13 years. Nowadays I keep developing mobile games and apps. I'm the co-founder of a new company called Insane4Games (www.insane4.com – link no longer available).
R64: We thank Roberto for his availability and the time he's spent for this short but interesting interview.
We're confident to have satisfied the thirst for truth of many readers shedding light on a matter having been kept unsolved for a very long time. Of course some of you may already be wondering whether it could be possible to retrieve master copy of this game, or at least, some fragment of its code, graphics or music. Sadly the answer from Roberto to our request was: "I don't have a thing anymore, when I moved to a new home I broke my C64 and I had to throw it away, I'm sorry!".
Who knows if those other guys involved in this project do have other copies of this programme… or bits of it. We hope to be able to update you, sooner or later, with some further interesting news.
Update – 26th October 2012
Following "pressing" requests from just so many users we've asked for a further mental effort from Roberto, thus managing to retrieve some more little news worth to mention.
R64: About Sturmtruppen, one can find online confused and inconsistent info about who did what… Do you remember who was the graphic artist and the musician involved in the making of C64 version?
RLR: I don't, sorry… but thinking about it I remember the graphician belonged to the IDEA team and he was living around Gorgonzola, near Milan. I also remember he'd worked hard to try to create a new "shade" effect with colors. And that game backgrounds were nice looking and colorful. In practice, the game was set on various levels: on foot, with jeep and by airplane, if I remember correctly.
R64: Ok, thanks to your info we've been confirmed that the graphic artist was indeed Paolo Galimberti, after all how many skillful graphic artists could one find in Gorgonzola! Actually we could straight away assert that graphics and music were done by the same person. But, let's continue… As far as you know did Farina and Leader argue, and because of that the publication of Sturmtruppen wasn't possible anymore?
RLR: I don't know a thing about that… but I believe it didn't happen that way.
R64: Some readers asked for more news about 2703. More in details: Why that name? Who was behind it? How did you keep in touch? Did you live in the same city or where you hanging around on the same BBS'?
RLR: 2703 was a dear friend of mine and the main hacker in the group. His nickname, number 2703, comes from his birthday, that is March 27th. The group formed after a few years and they were all internal friends living in Milan and they were mostly connected to a guy then distributing pirated software for money. He was called Piersoft.
As of today 2703 is still my best friend and we meet often.
R64: What can you tell us about your current activity?
RLR: I would like to re-release some old C64 games in a modern fashion, on IPhone & Android. This is the link to my game company: www.insane4.com
We've made quite a few mobile games, we've been in the mobile software industry for 13 years now. Insane 4 Games is a brand belonging to Bitween, the company we develop apps… we've simply decided to split the two kind of businesses.
Update history
08/11/22 – Fixed broken link on article page.
29/12/16 – Additional scan added thanks to Ross Sillifant