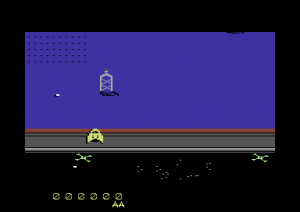 A large entry which i've decided to do for an entire software house's set of games. You see, not all of Turbo Tiger Software's games were unreleased but it strangely seems that none exist in any digital form on the web at present even though there was a lot of advertising, so we want to flag everything ever mentioned and tied in with TTS and see if we can help recover most (if not all) of their planned releases.
Melvin P Andrews was the man behind the label and worked from his home at Hull. The last we heard is that TTS moved to Porter Street in Hull, and then they went very quiet. What happened?
Below is a summary of some of the key games with details taken from various fanzines. Followed by other titles which have had a brief mention of some sort.
SEU puzzler (Released with Commodore Cracker)
"An exclusive game again made for us by TTS! It's a SEUCK game, but as well as a shootin' section, it's also a quiz (yes, a quiz with SEUCK!) and a maze game. Answer 15 questions in the quiz level, get 'em right, you score 10 pts get one wrong and you start again. In the shoot-em-up bit, just blast everything you see and in the maze, find the route that gets you the most points. This whole game, as well as being highly original, has strong "Alice in Wonderland" overtones!! CONTROLS: Joystick any port"
Haunted Mansion (1995 – reviewed in Commodore Action)
Magazine Editor (1995 – reviewed in Commodore Action)
Spacelord (SEUCK) (1995 – reviewed in Commodore Action)
FILE T1 (SCAN in Scans folder) (1995 – reviewed in Commodore Action)
TOP DETECTIVE (See gallery for review)
Other titles mention included:
Quiz Master, Magazine editor, Haunted Mansion, Top Detective, Spacelord, Quiz Master, Lub n Lob in space, Jolly Island, Cappin' Cappy, Pub Buster, Maze Trooper, Blast 'em GP, UFO prisoner, Future CHess, Ball-fighter, GRQ II, Match predictor, GRQ III, AARHH! (Compilation), Kidz Stuff, Hangman Deluxe, UFO – Landed (Sequel to UFO prisoner), Spacelord 2
Melvin also released a compilation called SEUM (Shoot em up mayhem) which was released in 1996 and contained Lub N Lob in space, Spacelord special, UFO Prisoner and Spacelord.
Help us dig out these games. Even though some were apparently poor, it would be great to digitally preserve this work before its lost for good.
UPDATE: 9/1/13 – We have managed to recover pretty much everything of Space Lord from an issue of Commodore Cracker. It was a demo, but just with the rest of the levels not tied in. We have tied them in, and although it says demo – the game is pretty much complete. In addition to this – some of Magazine Editor Demo, but unfortunately it is heavily corrupted – we have offered a download of as much as we can salvage for now.
Contributions: Marco (Exile) Das
Supporting content
Available downloads
Update history
01/03/2019 – Thanks to Marco (Exile) Das, GRQ II and Match Predictor Speed boat has been preserved and added!