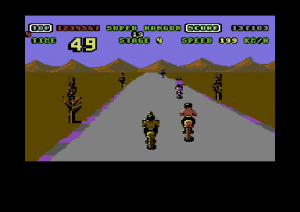 After what was an abysmal conversion, Electric Dreams were seemingly keen to make up for some reason.
Instead of just forgetting about the conversion, a PCW show (Zzap issue 32) had reports from Electric Dreams about working on a new revamped version of the game.
We weren't sure originally if this would have been from the same perspective, or from a new diagonal perspective which was adopted by the Master System version. It was likely that they would have had a better programming team, or the same team with new techniques to improve the conversion.
In 2011 we had a very interesting email from Kevin Tilley who (based in Australia) had a copy of the Big Box 30 compilation by Beau Jolly. Previously I had found there to be a rather different version of Wonderboy in the compilation (with an enlarged main sprite), but Kevin's version had a very different version of Enduro Racer in place too.
A crack of this version seems to have existed for quite some time, but has been tucked away without much fuss and named "Super Enduro Racer". The game seems unfinished with a number of glitches, but it is fairly close to completion and upon closer inspection, we noticed the words "By Orlando" written at the start.
Now Orlando is better known as Nick Pelling, and we needed to find out more. Nick has had a connection with Enduro Racer from the very start – even being credited to the game conversion that did make it (when actually it was Doug Anderson who was behind the conversion!). Was Nick behind a reworked version of the game, or was this entry actually a V1 rather than a V2?
The game feels much much better than the final version, featuring rolling hills, better graphics and better looking sprites. Speed is a bit slow though, but you can see the promise. There are about 5 stages in total too – though you can drive all over the place, and the collisions aren't quite sorted.
Nick Pelling got in touch with GTW64 in 2014, and confirmed that he did work on a new enhanced edition of the game and this was likely it. It was an enhanced disk only edition which was intended for the US market (simply as sales of the 1541 were low outside of the US). Nick believes it was cancelled fairly close to completion and was never properly released – with no payment being made for the work.
So how did the unfinished game come to end up on a random copy of Big Box 30, when no-one else had that version? Nick believes that it was likely a simple mistake from someone within Activision who grabbed the wrong master disk – why for the Australian version we do not know. We may never know either!
Then in July 2022, contributor Martin Smith found an advert for an Elite 6-Pak Vol.3, including Enduro Racer – but with a note to say the pack would be containing a new version that had been developed in the US. This must have been the edition that Nick created – but did it ever get to feature on the pack? By the looks of it – it didn't.
This is very likely all that was ever produced, and we're very lucky to be able to experience it. If Nick had been able to properly finish the game, we could have had something quite special.
Contributions: Kevin Tilley, Tony Williams, John Buckley, Nick Pelling, Martin Smith, Stephen Stuttard (scans)
Supporting content
Available downloads
Creator speaks
Nick Pelling talks about work on Enduro Racer V2:
"Yup, I worked on a version of Enduro Racer for Activision/Mediagenic: as I recall, it was intended as an enhanced disk-only version of the game for the US market (simply because at that time sales of the 1541 disk drive were low outside of the US). I can still remember the game's version of the arcade music (though was that done by David Whittaker? I can't remember). :-)

However, I'm reasonably sure that it got canned very close to completion and was never released. I certainly don't recall getting any royalty statements. :-(

If it ended up on a Beau-Jolly compilation, that was probably a mistake aboard the Activision mothership, someone grabbing the wrong master. Happens!"
Update history
27/07/22 – Advert added showing note of the improved version being released on a compilation. Did it ever happen?
14/06/22 – Further tidy ups.
31/08/14 – Nick Pelling confirms details about his conversion.