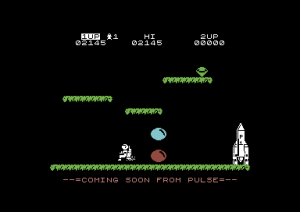 Not entirely sure how we missed this, but it was tucked away in the demo archives as Pulse Preview. We discovered it by going through Cory Kin's CNet disks and got a bit of a surprise to see a proper conversion of the Spectrum classic.
Due to the date of production, we don't believe this was official at all – and could be the reason why the game was abandoned. The preview we attach here is sort of an advert for the upcoming conversion by Pulse Productions, which were a demo group active mostly on CNet at the time. It gives some intro text, followed by a short animated sequence of the game and the jet pac guy getting into the rocket.
After pressing space a few times, a conversion of the Spectrum loading screen is presented.
There is no doubt that the game could have been converted perfectly fine. The question is whether anything came from this preview, and if anything playable was ever actually produced. However, worst case – we have been blessed with a brilliant Jet Pac clone called Rocket Smash in the RGCD 2013 competition – so we do now finally have a decent conversion of sorts.
But what of this intriguing Speccy port? How far did it get? Well, so far Sean Connolly, Duncan MacDonald and Dave Edwardson don't believe that it got any further than this demo – so it looks like an accurate Spectrum port isn't on the cards just yet!
Contributions: Sean Connolly, Duncan MacDonald, Dave Edwardson