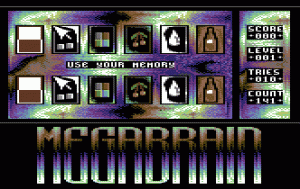 Another puzzler, and this time a memory game, where you must remember a sequence of picture tiles and try to pick them out.
Not that exciting a concept, and one of the many puzzlers that swept the C64's shores in the late 90's.
Graphically the game is very good, and plays well with some good sonics, but its not that original and lacks a bit to keep interest levels high.
The preview indicates that the game seems to have reached a late stage before being scrapped. It seems all there, and probably only needed some minor adjustments to finish off.
There are some credits to follow up, which will hopefully establish more on this little puzzle game.
Nice, but a little boring…