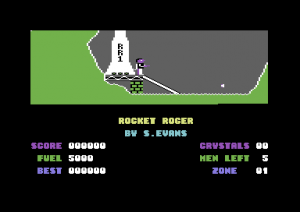 A very short entry, as technically this was released – but only briefly!
Rocket Roger had a reputation of being a rock hard game, but it also went through two iterations! Initially when previewed and briefly sold at a PCW show, the game was keyboard only and was much harder to play.
Due to a poor response, Alligata Software decided to give it joystick support and give the game an intermediate option for those who struggled to get far in the game. This seems to be the game that we all mostly know and love.
As we cover Chiller V1 in the archive – it seems only fitting to also cover the earlier edition of Rocket Roger too. Here it is grabbed from Gamebase.
Tape now added thanks to Richard Bayliss!
Contributions: Vinny Mainolfi
Supporting content
Available downloads
Update history
27/08/14 – TAP image added thanks to Richard Bayliss!