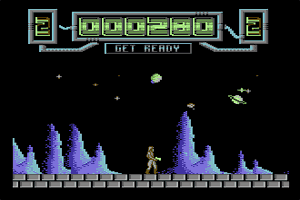 A new GTW entered into the archives, kindly fixed up for GTW from the work disks of Harold Klink and Martijn Althuizen.
Enemy Scout is both a sideways SEU and a sideway run-along game in its early stages of development. There are a total of roughly 4 levels with some varied versions and two title screens unlinked.
The SEU part looks quite good with its score panels, but the screen area could possibly have been too small for the gameplay. The 4th level where you take control of an excellent space man running along a landscape, looks much more promising and would have no doubt been excellent had it been completed.
A lot of work was done on the game, including various bits of graphics by Martijn. Sadly interest was lost in the game and it was only ever really a demonstration of graphics and various techniques. As the C64 died out, the guys left the C64 and moved onto other platforms.
One of the title screens seems to suggest that Elite were approached to launch the game, but it was found that the game was never submitted to anyone.
All the sources of the game were examined, and this is what GTW found… the remains of Enemy Scout. A big thanks to Skeletor for examing and piecing everything together! A promising looking title which could well have provided a good blast, but at last can be examined by the public to see and think what might have been. You can also now check out the game's sources, thanks to Harold for giving permission to put them up.
A promising title which sadly never was to see the light of day…
Contributions: Harold Klink, Martijn Althuizen, Jazzcat, Ignorance, Skeletor
Supporting content
Available downloads
Creator speaks
Martijn Althuizen speaks about work on Enemy Scout...
"There was no contact between us and Elite about Enemy Scout, so no, there were no plans on them publishing it. I just liked the Elite logo a lot and did some versions of it myself. Harold must have liked them and included them in the title screen because of that.
As far as I know, we never send anything of Enemy Scout to anybody. It wasn't really a game we were designing anyway. More of some things we wanted to do with parallax scrolling, multispeed scrolling, etc. etc.
There was no 'strategy' to it really, just a series of things we did and we just called all of them Enemy Scout!
There weren't any plans on building a 'real' game, so you can't say it was cancelled either. We just stopped doing stuff on the C64 and all this died with it... I was having high hopes for us to still finish Golden Pyramids II. I really pushed Harold to get him to finish it, but at some point in time he just lost interest... "
Martijn.